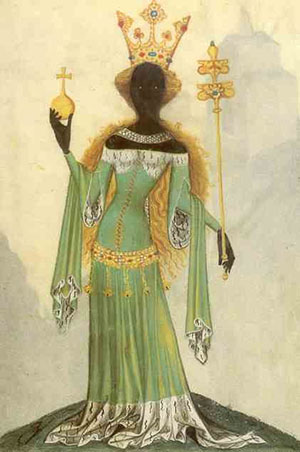 Moses' Wife, the Queen of Sheba, and the Black Bride
Let's trace the black and beautiful bride through Scripture and behold her beauty, starting with that strange story in Numbers 12. There are all kinds of interpretations on this. Origen's is most compelling to me, as he ties it into his homily on the Song of Songs 1:5:
'I am dark and beautiful, O ye daughters of Jerusalem, as the tents of Cedar, as the curtains of Solomon.'

(1.5—Vg. 1.4)
In his book Reading While Black, Esau McCaulley opens his chapter on the Bible and black identity with this verse from the Song, as he goes on to demonstrate how black identity in Scripture, along with multiple ethnicities, show forth God's promise to Abraham and his original purposes of cultural diversity as a manifestation of his glory. He surveys black identity in Scripture as fulfillment of this promise, tracing through Ephraim & Manasseh (Gen. 48:3-5), the multiethnic group who left Egypt during the exodus (Exod. 12:38), and the conversion of Africans such as Simon of Cyrene and his family (Matt. 27:32), and the Ethiopian eunuch ((Acts 8:26-40). And he concludes,
"When the black Christian enters the community of faith, she is not entering a strange land. She is finding her way home."
That reminded me of Origen's homily. He comments on the daughters of Jerusalem bringing this charge to the Bride, calling her black, an outsider, "one who has not been enlightened by the patriarch's teaching." He speaks for her:
"Because of my dark colouring you may compare me to the tents of Cedar and the curtains of Solomon; but even Cedar was descended from Ismael, being born his second son, and Ismael was not without a share in the divine blessing. You liken me even to the curtains of Solomon, which are none other than the curtains of the tabernacle of God—indeed I am surprised, O daughters of Jerusalem, that you should want to reproach me with the blackness of my hue. Have you not come to forget what is written in your Law, as to what Mary [Mariam] suffered who spoke against Moses because he had taken a black Ethiopian to wife? How is it that you do not recognize the true fulfillment of that type in me? I am that Ethiopian."
In expositing Numbers 12, Origen points out the interpretive difficulty of Miriam and Aaron's complaint. The text says that they spoke against Moses over the Cushite woman he married, but what they said was "Does the Lord speak only through Moses? Does he not speak also through us?" (Num. 12:2). What does this have to do with Moses' Cushite wife? Origen thinks it has to do with what their positions represented typologically.
Continue reading